A Basel Night At The Proms - Caterina Ciani, Tiffany Butt, Beverly Worboys
Broadcast on:
16 August, 2022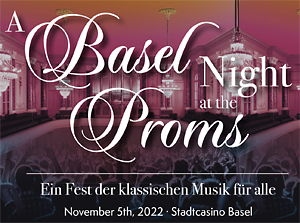 A Basel Night at the Proms - the first of its kind in Switzerland - is a gala evening initiated by British-born soprano and musical star Beverley Worboys that will unite Swiss and international artists in a grand celebration of music, arts, and culture at the Stadtcasino in Basel.
Inspired by the legendary BBC Proms held annually at the Royal Albert Hall in London, the specially curated programme for orchestra, large choir and soloists will showcase some of the most beloved works of the classical music canon in addition to two new medley arrangements by Canadian piano virtuoso Tiffany Butt.
In keeping with Proms tradition, the grand finale will bring together audience and performers in song, coupled with a spectacular visual extravaganza created by Basel-based visual artist Permi Jhooti.
Richard Wherlock, the internationally-renowned director of the ballet company of the Theater Basel, will narrate the evening in both Swiss-German and English.
In addition to the performance on 5 November 2022, members of the greater Basel community have the opportunity to participate in the Gala Choir by signing up for a workshop series with acclaimed choir conductor David Lawrence, one of the UK's most celebrated and inspiring conductors. See you at the Proms! Listen to the interview here.
Our music theme this week was all about classic soul. We played:
The Flamingos - I Only Have Eyes for You
Otis Redding - Sitting On The Dock Of The Bay
Stevie Wonder - My Cherie Amour
Al Green - Love
Gladys Knight & The Pips - Midnight Train to Georgia
Marvin Gaye - I Heard It Through The Grapevine