Summer Gadgets; OpenAir St. Gallen 2022
Broadcast on:
28 June, 2022
This week on the Gadget Guru, Ian suggests a few gadgets for the summer, something for the long warm evenings, then something for those more challenging summer days, and finally an item for every kid, big or small. Listen to the segment here.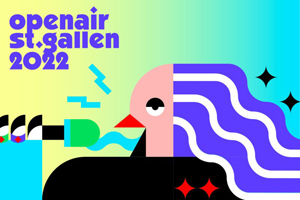 Music festival season is upon us - the UK's Glastonbury was a huge success last weekend, and Switzerland's festivals have started as well. Coming up this week is OpenAir St. Gallen from 30 June to 3 July, with a line-up that includes Muse, Years & Years, Tones and I, Sam Fender and many, many more. We will be reporting from the festival's Saturday.
This week's music theme is an OpenAir St. Gallen special, with a focus on the female artists performing on the festival's stages. We played:
Emilie Zoé - Parent's House
Annie Taylor - Telephone
Naomi Lareine - Limitless
Femi Luna - Too Much
Julia Heart - Jungle
Natascha Polké - Neverland
Joy Crookes - When You Were Mine
Priya Ragu - Illuminous
Zoe Wees - Ghost