The Schoutens, Family & Kids - Baby-Friendly Yoga Places
Broadcast on:
7 May, 2019
Get the kids outside, show them how to connect with nature and enjoy some relaxing time with the family! Fresh Air Kids Switzerland - 52 Inspiring Hikes That Will Make Kids and Parents Happy is the new book written by Melinda and Robert Schoutens. Melinda joined us in the studio along with her kids Noah and Tessa and shared stories of inspiration behind the book. In keeping with modern technology, when you buy the book, you get a downloadable code that allows you to add maps and waypoints (.gpx) to your mobile device which will easily travel with you on your family adventures. Join the fun on Saturday, May 11 at the GGG West Library from 10:30 - 12:00 for a family fun event. Fresh Air Kids Switzerland is available at all major book stores and available in English, German, French.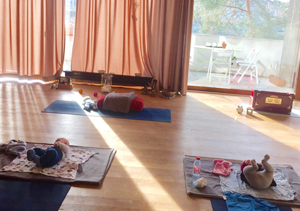 Laure Audidière is a new contributor to The English Show, giving you practical tips and tricks on what to do in Basel as a family. Today it's all about baby-friendly yoga places. If you love yoga as much as Laure and are a new mother, where can you go to do yoga with your baby in tow? And in English, too? Laure talks about three places that she has tried out, in 3 different locations in Basel: The Looking Glass, Mignon at Kindermusik Studio, and Loosloo. For more details, listen to Laure's segment here!
Days Of The Week was our music theme. Surprising how many songs are out there with Sunday and Monday; not so many with Wednesday and Thursday:
Rolling Stones - Ruby Tuesday
The Cure - Friday I'm in Love
New Order - Blue Monday
Morrissey - Everyday is Like Sunday
Bay City Rollers - Saturday Night
Gina Ete - Thursday