Half Moon Run in Zurich - 23 November 2019
Leif Vollebekk
Supporting Half Moon Run at the X-TRA in Zürich was fellow Montrealer Leif Vollebekk, with a humble and genuine performance of a very Springsteen-meets-Jeff-Buckley take on the indie folk genre. Soulful and laid-back, the multi-instrumentalist wowed and engaged the large audience with his intimate and almost improvisational music, no mean feat for one man alone on stage playing raw, stripped-down renditions of his songs. Vollebekk alternated between his electric piano and guitars, the only percussion being his syncopated finger snapping and an accompanying "Swiss backbeat" provided by the eager crowd.
Highlights included "Elegy" from 2017's Twin Solitude, "Transatlantic Flight" from his latest release "New Ways", and a brief rendition of Radiohead's "Nice Dream".
Half Moon Run
The dynamic Canadians of Half Moon Run combine the folk harmonies of the Milk Carton Kids and Fleet Foxes with the heavy beat of indie synth rockers Foals – with some alt-J funk thrown in for good measure – and truly brought the house screaming down at Zürich's X-TRA. Storming the stage bathed in pulsing red light, they opened with "21 Gun Salute" from their 2012 debut album "Dark Eyes". Minimalist electronic IDM sensibilities taken from Radiohead were particularly noticeable in the shuffling electronic drums and clean tenor of frontman Devon Portielje.
Funky bass and almost new wave-reminiscent guitar were present in "Favourite Boy", a highlight from their latest album "A Blemish in the Great Light". A electrifying lead guitar solo from Portielje (far from the only multi-instrumentalist on show that evening) had everyone hooked; glimpses of a 1982 Asia coming through over the modern beat.
From the tender and energetic "Razorblade" to the fingerpicking acoustic sounds of Leonard Cohen's "Avalanche" in "Narrow Margins" (from the generally stripped-down and sorrowful 2015 album "Sun Leads Me On"), Half Moon Run had a little bit of everything on offer: folk, alt rock, synth pop, all wrapped up into a no-frills indie rock package.
The highlight of the evening was without a doubt the authentically 'unplugged' acoustic rendition of the title track from "Sun Leads Me On", the four bandmates crowded around one microphone to properly emulate the minimalist production process of so many folk and country performances. Haunting falsetto and nostalgic harmonies sent the crowd utterly wild, with screams and cheers bouncing off every wall to celebrate a truly show-stopping moment.
Fans of the darker, electronic atmospheric take on indie rock featured in bands such as Manchester Orchestra and some of Arcade Fire's back catalogue – not to mention every post-rock band since the 1990s – should be more interested in the material from 2012's "Dark Eyes", particularly "She Wants To Know". Consisting of heavier guitar distortion, reverberating piano, the stylistic presence of Jeff Buckley's sole album – "Grace", released in 1994 – was brought even further to the fore by Devon Portielje's dynamic and deft singing.
Half Moon Run were easily encouraged back on stage after their main set by what seemed like the entire crowd screaming for more, a level of shameless passion rarely seen in a Swiss audience. The sheer accessible joy of their music was clear during their inevitable encore, with the cheeky "Jello on my Mind" compelling even the lighting manager to dance to the groovy, uplifting rock tune replete with feel-good vibes and sporting an airy mix of synthesized doo-wop and boogie-woogie piano licks.
In complete contrast, the hair-raising "Fire Escape", another clear highlight from "Dark Eyes", stripped the sound back to the bone, with Portielje's pure unwavering falsetto alternating with Conner Molander's heartbroken harmonica to goosebump-inducing effect. Not to leave the adoring crowd on a downer ending, a final epic performance of "Full Circle" had the audience singing along of their own accord, immersing themselves in the eminently danceable and full-bodied musical treat.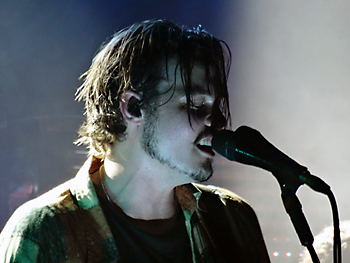 Half Moon Run proved that accessible music need not be superficial or trite with their expertly crafted and thoroughly engaging range of indie folk rock, with something on offer for almost everyone. In its best moments, this was as good as pop rock gets.
- Miles Prinzen
Promoter: Just Because