Gurtenfestival 2017
There's an otherworldly quality to life when you spend four days at a music festival. Less "who's making dinner tonight?", more "have I truly just eaten my tenth portion of chips?" And music seeps into the senses on all levels.
Bern's Gurtenfestival has always been one of the loveliest festivals in Switzerland. Once you're up on the Gurten hill, you're rewarded with undulating fields, cows grazing peacefully, and a spectacular view of the Alps and of Bern.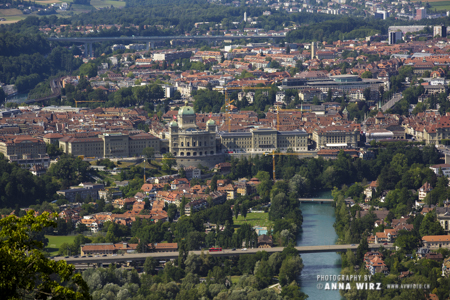 On the negative side, this lovely festival is slowly becoming the most overcrowded festival in Switzerland. The limit used to be 15'000 people a day; now it's at 20'000. And: most people are there to party and chat with their friends rather than listen to the actual concerts. For the music lovers among us, the constant babble of voices is distracting at best, enough to drive us away at worst. It diminishes the pleasure of listening to great artists on stage, and it's disrespectful to those artists.
Nevertheless, The English Show braved the crowds and the loquaciousness to bring you the lowdown on the 2017 edition.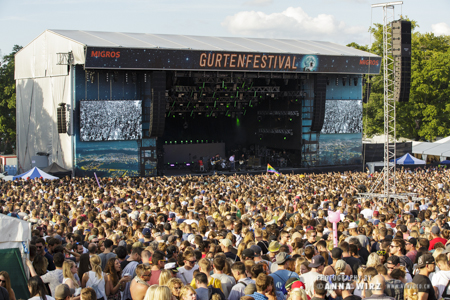 The festival has three stages: Main, Tent and Forest. The latter provides an excellent platform for up-and-coming Swiss bands. The Swiss music scene is thriving in 2017 - whether you're a fan of indie pop, rock or electronica, to say nothing of heavy metal, there's sure to be a great band to satisfy your genre needs.
If your need is reggae, look no further than Pedestrians. You wouldn't think that reggae and ska could be Swiss-made, but this Baden band proves otherwise. They play a spirited set on the Forest Stage, while the audience dances in the sun. Al Pride are more mellow and laid-back, complete with brass section; and Death By Chocolate blast out a welcome dose of blues rock.
Crimer may be the highlight of the festival. If you like 80s synth-pop, then this is your man: a Crimer concert is musical time travel without having to step into the TARDIS.
Some Swiss bands have graduated to the Main Stage: Pegasus offer warmhearted pop; Lo & Leduc mix rap with reggae. Both are received rapturously - yet more proof that the national music scene is alive and kicking. Züri West are to Bern what U2 are to Dublin and Oasis to Manchester: local heroes playing a home game gig. They've been around since the 1980s; their latest album "Love" still wows.
Some of the headline slots go to German hip-hop: from Casper to Beginner, the rappers deliver impressive shows and festival-friendly beats. The party aspect is clearly at the forefront of these concerts, but musically, there's often little of interest.
From the UK, Rag'n'Bone Man kicks off the festival with his wonderful bluesy vocals; Royal Blood smash through their crunchy blues-rock set with gusto; Nothing But Thieves surprise with sweeping soundscapes and singer Conor Mason's jaw-dropping voice; Arcane Roots mix hushed vocals and math rock freak-outs (a delightful discovery, this band); and Kate Tempest proves yet again that she's an astonishing, singular talent.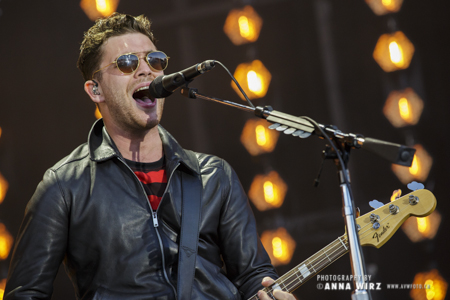 The US gets a look-in with the bland mainstream hip-hop of Macklemore & Ryan Lewis, contrasted by House Of Pain's old-skool scratches and beats - what a relief to hear the latter. When the peerless "Jump Around" kicks in, the Tent becomes a mass of heaving bodies bouncing up and down. What a moment.
More great festival moments come courtesy of Imagine Dragons, who are on fire during their concert, despite encountering technical difficulties. They played the Tent Stage a few years ago and now they have graduated to being true headliners - a treat to watch.
Singer-songwriter LP has her fans singing along to every word. She plays to the crowd, spending more time walking on the loudspeakers and along the photo pit than on stage. The connection between her and the audience is truly affecting, culminating in a hug between the singer and one of her fans. LP's voice has a Marmite quality to it - you either hate it or love it. But there's no denying that "Lost On You" pushes all the right buttons, and it's the best sing-along moment of the festival.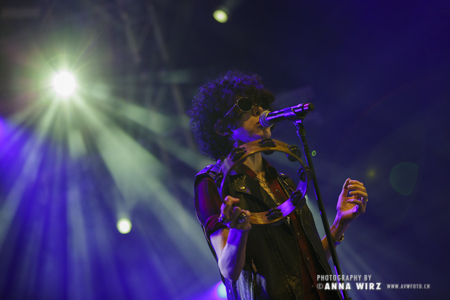 Photographs of many of those mentioned above, plus Jack Garratt, Rüfüs, Irie Révoltés, Lissie, Saint Motel and Walk Off The Earth are here on Flickr.
- Anna Wirz
Here's The English Show's interview with Pedestrians.