Gorillaz in Zurich - 8 November 2017
Gorillaz's animated members 2-D, Murdoc Niccals, Noodle and Russel Hobbs were made flesh and blood at the band's concert in Zurich, with Damon Albarn surrounded by more collaborators than you can shake a stick at.
The live show reflected the range of contributors on the band's fifth studio album Humanz, released in April 2017. Humanz could be said to be more of a mixtape than an album proper, but there is an overarching political theme to the songs. Hardly surprising, given the times we live in.
At the Zurich concert, rappers and musicians Peven Everett, Jamie Principle, Zebra Katz,and De La Soul all contributed, bringing groove and soul to Strobelite, Superfast Jellyfish and the stomping Sex Murder Party. British rapper Little Simz blew everyone out of the water with her rapid-fire delivery and high-octane energy on Garage Palace.
The sparse We Got The Power was a highlight, even though Noel Gallagher and Savages' Jehnny Beth were sorely missed on stage.
Despite all the excellent collaborators, Damon Albarn remained the star attraction - fair enough, considering he is the co-founder (with Jamie Hewlett) of Gorillaz and the glue that holds everything together. He handled vocals on tracks like On Melancholy Hill, Busted And Blue and Andromeda, some of which were too quiet and contemplative for this particular audience.
The chatty crowd - at the back of the venue at least - seemed to think it was at a bar with background music, more interested in getting beers and recording the gig on their phones than actually involved in the live experience. The front section was more focused and gave the band the energy they needed.
Songs from Gorillaz's back catalogue were greeted with the biggest cheers; Kids With Guns, Feel Good Inc. and the eternally catchy Clint Eastwood went down a treat.
Two things make Gorillaz more intriguing than your average band: they're not defined by genre; and they're very much defined by their visuals. The lighting, the screens, the videos, the animation: it all comes together to form a coherent whole despite its many disparate musical parts.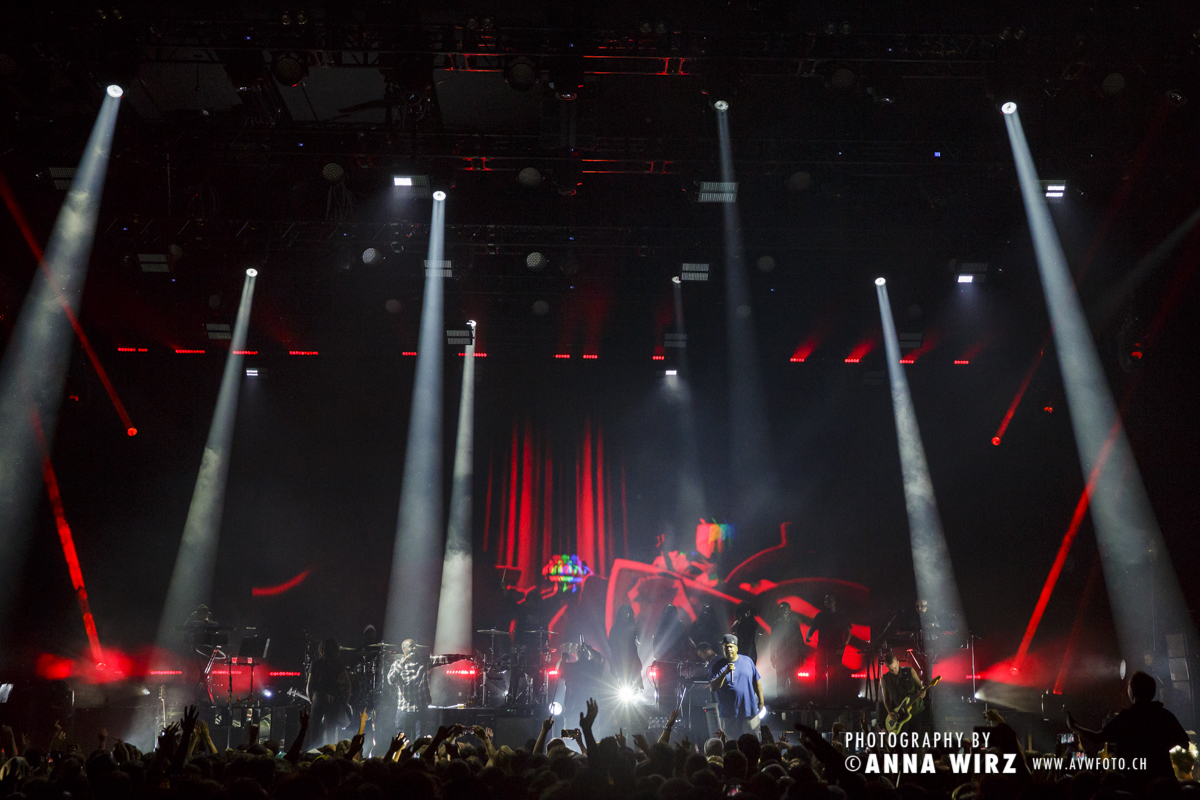 But: that coherent whole was, ultimately, a bit too slick. Taking a cue from the new album title, the concert was at its best when human, off-the-cuff elements crept in: when De La Soul's Maseo said to Albarn "you're crazy, but I like you"; when Albarn laughed while singing. Those are the moments that stick in your mind long after the lights have been switched off.
- Anna Wirz
Setlist:
M1 A1
Last Living Souls
Saturnz Barz
Tomorrow Comes Today
Rhinestone Eyes
O Green World
Every Planet We Reach Is Dead
Sleeping Powder
Superfast Jellyfish
On Melancholy Hill
Busted and Blue
El Mañana
Strobelite
Andromeda
Sex Murder Party
Garage Palace
Kids With Guns
We Got the Power
Spitting Out The Demons
Stylo
Feel Good Inc.
Clint Eastwood
Don't Get Lost in Heaven
Demon Days