Cult Of Luna at the Z7 Konzertfabrik - 1 December 2019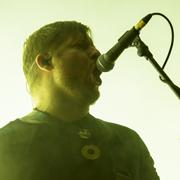 Swedish post-metal group Cult of Luna brought a bombastic and hypnotic fusion of post-rock, doom metal, and electronic atmospheres to the Z7 Konzertfabrik in Pratteln, where they were supported by post-rock trio A.A. Williams (UK) and the punk-ish post-hardcore Brutus (Belgium).
A.A. Williams
Sporting the haunting vocal stylings of PJ Harvey and a fully formed post-rock sound, A.A. Williams was deserving of a show of her own, carrying off a stellar performance with emotional depth and an extremely high quality of musicianship with her bandmates. Rather than headlining a concert, however, the humble London three were up the back selling their own merchandise with a cheerful demeanor to contrast their harrowing music style.
Brutus
Next up was the raw and loose mixture of post-hardcore and old-school punk sensibilities from Brutus, whose drummer – Stefanie Mannaerts – was also lead vocalist, combining the air burst dynamics of her pounding drum beats with Björk-esque singing as her hair was blown around by what seemed like the sheer electrifying energy of their music.
Cult of Luna
Having made a name for themselves in the new millennium, the Swedes formed their particular alternative outfit in 1998 from the remnants of the hardcore punk band Eclipse and have since toured the world, playing major sets at both festivals and their own concerts. Performing cuts from their new record "A Dawn to Fear" as well as highlights from 2006's "Somewhere Along The Highway" and 2013's "Vertikal", Cult of Luna took the crowd into a deep trance of textured distortion, alternately building vast soundscapes and razing them to the ground with aplomb.
The electronic influence of industrial metal, reminiscent of Nine Inch Nail's "Eraser", was present in the double drumming of Magnus Líndberg and Thomas Hedlund, infused with Kristian Karlsson's synthesiser and electric piano as a roaring ocean of fog filled the hall; rays of light penetrating the thick air like sunlight in a dark body of water. Gargantuan guitar-driven walls of sound pulled the audience into a hypnotic lull like the withdrawing of a tidal wave before crashing into heavy riffs that had just about everyone in a head-banging frenzy.
The emphasis of Cult Of Luna's music is still very clearly on instrumentation and sound structures thanks to the extended passages without vocals, though when lead singer and guitarist Johannes Persson does bring his guttural death growl to the fore, it blends seamlessly with the textured image of doom and gloom that has been constructed.
With slow doom-like moments like those by Bohren und der Club of Gore transitioning into the heavier side of Muse (see "Hyper Chondriac Music" from "Hullabaloo") and the glockenspiel-punctuated melancholy post-rock of Switzerland's own Leech, Cult of Luna encompass a broad range within a niche genre and have plenty to offer to fans of all flavours of large-scale atmospheric music.
Highlights from their set included the mellow and almost Lynch-ian "And With Her Came The Birds" from "Somewhere Along The Highway", the behemoth "Lights on the Hill" from "A Dawn to Fear", and the utterly epic and appropriately named "In Awe Of" from "Vertikal".
Those who dearly miss the atmospheric post-metal of Agalloch should have Cult of Luna on their radar, and their new album is a fantastic introduction to both the band and the genre.
- Miles Prinzen
Promoter: Mainland Music
Photos of A.A. Williams are here.
Photos of Cult Of Luna are here.