Cigarettes After Sex in Zurich - 17 November 2019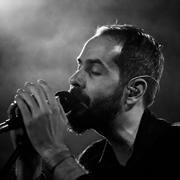 Monochromatic but far from monotone, Greg Gonzalez and his Brooklyn-based dream pop band Cigarettes After Sex entranced their devoted audience at the delightfully intimate Plaza in Zürich. Dark leather sofas and panoramic mirrors lining the walls, a moody and cinematic atmosphere formed as the 30-minute 'warm-up' film "You're The Only Good Thing In My Life" depicted phrases from the band's new album "Cry", suspended and flickering over a wave-kissed black-and-white shore. The band was nowhere to be seen but the room was already filled with the sounds of a gentle storm rumbling over the distant water, the projected scene accompanied by sparse melancholic piano playing. Perhaps a little self-indulgent and overlong, it's hard to deny that CAS commit to their heartbroken and wistful aesthetic.
Walking on stage in an equally monochrome dress code, Gonzalez and his bandmates projected an unassuming presence. Quietly spoken and barely interactive, the music was fully at the forefront; Gonzalez' signature androgynous voice, delicate and honest, highlighting how production and musicianship is the strength that carries the band. Slowly swaying couples and groups of friends listened together as the quartet performed a concise but comprehensive selection of songs from their two studio albums.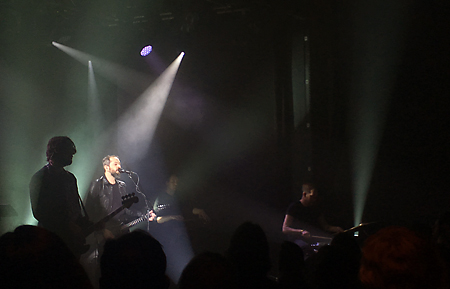 Similar to fellow modern vintage dreamer Lana Del Rey, CAS capture a modern twist on the nostalgic ambience of 1980s and 90s dream pop, following in the American sadcore tradition of groups such as Mazzy Star, Codeine, and Galaxie 500, with a heavy helping of David Lynch collaborators Julee Cruise and Angelo Badalamenti to boot (Cruise, as well as the Cocteau Twins, are cited as major influences by the band).
Keyboardist Josh Marcus provided the unhurried synthesiser pad swells that wouldn't be out of place in Twin Peaks, as Jacob Tomsky made thorough use of his cymbal – contributing a cruising percussive backdrop to Gonzalez' bittersweet and haunting vocals.
An evening highlight came midway with "Nothing's Gonna Hurt You Baby" from their 2012 EP – one of their sweetest but most heartfelt and sincere tracks, seemingly optimistic compared to their other material but with a hint of ironic hindsight – a track that would fit most perfectly in a Noah Baumbach film.
The other highlight, particularly for the ecstatically cheering crowd, was "K.", the opener from their 2017 self-titled album and one of their most popular songs. Tenderly capturing the feeling of a casual relationship slipping into something more, the guitar work reaches peak Slowdive, soaked in reverb and dreamy sorrow as Gonzalez sings about the discovery of reciprocal emotions in another.
It is perhaps telling that the strongest musical showing throughout the set lay squarely with the songs prior to the new album, particularly the masterful self-titled debut. CAS' new album continues the Julee Cruise-inspired jazzy pop theme but leans further into derivation and tends to lacks the magic balance of self-pity and genuine heartfelt introspection that the debut provided – notably in the more superficial lyrical content – resulting in a greater difficulty getting absorbed into the stories and soundscapes that Gonzalez and company weave.
Given his straight-faced performance, both during and between songs, it was hard to shake the feeling of unwarranted self-importance – but as soon as they returned to their debut with the stunning "Apocalypse", reminiscent of contemporary dream duo Beach House, all the strengths of which CAS are capable came flooding back. That song served as the close of their main set, once again conjuring a cinematic tone with a metaphoric movie disaster scene as Gonzalez aptly sang "You've been locked in here forever and you just can't say goodbye".
With words of thanks and cheers in kind from the crowd, Greg Gonzalez and his mellow men departed the stage, returning promptly for a succinct encore of "Young & Dumb" and a fantastic noise-rock-infused rendition of "Dreaming Of You". The latter and final performance once more highlighted their penchant for an enveloping and rich sound production and style, with plenty of potential to develop their sound and further explore the dark recesses of early 1990s alternative music.
Despite the shortcomings of their newer material, when Cigarettes After Sex are at their best, they transcend the saccharine association of their content and use expertly crafted form to elevate their music into an intimately shared memory, and a genuinely moving experience. Was their first album lightning in a bottle? Perhaps, but a storm brews over the ocean and it's worth keeping an eye on.
"You guys are the sweetest" – Greg Gonzalez
- Miles Prinzen
Promoter: Just Because