SECRET DINNER FASHION & STYLE REVIEW!
Secret Dinner Review By Mary Collins 06/04/2019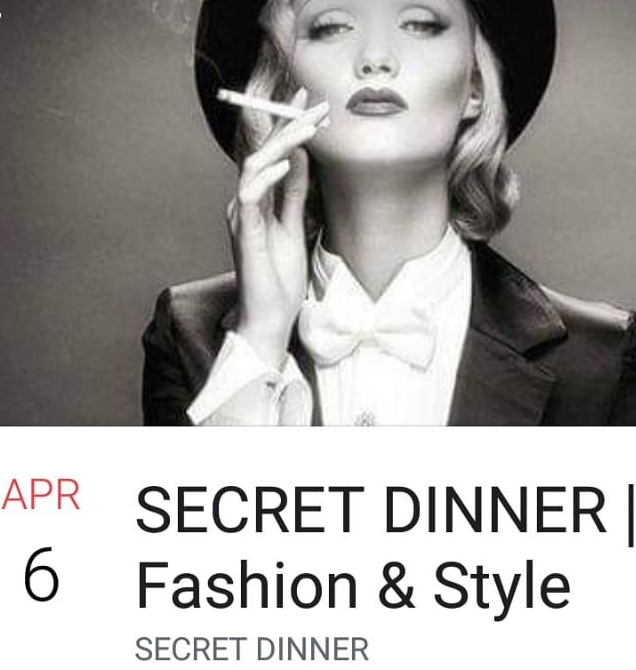 Nothing is quite as exciting as having a themed dinner party, unless it's with strangers at a secret location! The theme was Fashion and the meeting point a playground in the suburbs of Basel.
I admit I got lost, as there were a few Spielplatz/ playgrounds, near each other. Apparently if I'd googled it, or taken an Uber, I'd have not been the last of the group that had to be found and rescued. Luckily, we were within walking distance of the secret location.
Greeted by another part of the secret team, my companion and I were escorted down a red carpet into a big warehouse. The big space though mostly empty, was beautifully laid out with a long candle lit dining table, a stage and a lounge area with bartenders from " Barty" .
There was also racks of clothing and accessories, to go with the fashion theme and a personal stylist to help people with fashion ideas that suited their body types and colour schemes. I made my way to the bar area where a cocktail of my choice was included in this fabulous experience.
I had the opportunity to meet the creator of the secret dinner experience, Christof Rauber who told me a bit about the company and how it all got started and where it's at now. Zurich is the main location for most of the Secret Dinners currently, but as the team explore location options, more Basel dinners are in the making.
After posh posing fun, at the photo booth ,we sat at our places (marked with each person's name, on petite little place cards). An introduction was made about the event and theme, in German but one of the staff, kindly filled me in with the gist of things.
The company can book English events, and I was also informed that they would always try to accommodate, in whatever way possible, including dietary needs, if informed in advance.
Though I suffer from some food intolerances, I didn't inform them as normally with other companies (especially airlines) they either supplement your meal with inedible food, or very little to no substitutes. Therefore, I was really surprised when the person across from me, got as just a good dinner with fantastic replacements for gluten and other intolerances. For example, instead of bread they substituted quinoa pastry base for the burger.
Instead of milk and rice ice-cream, they substituted apple sorbet, and where I had granola she had oats. The most impressive effort was in the Thai soup accompaniment (which was originally sour cream), was substituted with mango paste! Yum! There were also vegetarian options too. The experience was truly fine dining.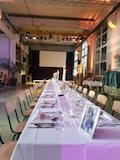 The table laid out with just the right silverware and as each meal came it was started professionally, two servers on either side lined up to make sure the table of guests were taken care of like a five- star ocean liner. Each meal had a drink accompaniment, with the different fashion icons theme. The entertainment was a talented singer who starts on the stage and then interacts with the crowd.
We had Marilyn Monroe, Charlie Chaplin, a "Yellow Polka-Dot Bikini" intermission and Brittany Spears to fill us up with more drinks of choice after dessert! The courses were a nice mixture of French "Nouvelle Cuisine" style and a hearty American style Main course.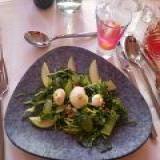 Overall, The Secret Dinner was a success and the team did an outstanding job, with creative use of a space, tying in themes, entertainment, fabulous food and presentation and professional service with smiles and great effort all around! I definitely rate this experience five out of five stars! This would be a great company staff event, for a group of friends, partners or an independent adventure and treat for yourself!
Upcoming themes are "Wonderland" & "Roaring Twenties"
Book Now! www.secretdinner.ch
Menu & Fun Facts from my Secret Dinner Experience, Basel
Date: 6th of April 2019 Meeting Time: 18:00 o'clock at Spielplatz Ulmenweg in Basel Theme: Fashion & Style What: Apero (30') and 5 course menu Menu: You will find the menu card here: https://we.tl/t-dpLWHvezGh
1. Charlie Chaplin: Representation of the 1920's; "The Charlie Chaplin Cocktail was invented at the Waldorf Hotel Astoria with Apricot Brandy, Gin, Lime "
2. Marilyn Monroe: Fashion icon; The course presented her favourite food "carrots as mousse, her lipstick as beetroot, her white dress in the wind as yuzu foam"
3. Bikini: Representing the 1950's; a summer course with coconut and shrimp as if you were on the beach, with the music theme from "Yellow Polka Dot Bikini"