Fasnacht 2019 Approaches!
Fasnacht Approaches!
By Mary Collins
A great start to the lead up to Spring, and a rich cultural celebration, prepare yourself for Fasnacht, March 11th for 2019! "
Fasnacht
begins on the Monday, after
Ash Wednesday
at 4.00 am with the
Morge
nstreich
and lasts exactly 72 hours ending on Thursday morning (4:00 a.m.) the
Ändstraich
. During this time, the city ​​center of
Basel is
overtaken with the carnival people, who move in their
cliques
through the streets, pubs and shops. Fasnacht is the biggest
carnival
in Switzerland."
I discovered through a contact who participates in the clique (whom I bribed for info by buying a
blaggedde
, and absolute must have during carnival!), a place where some revellers go to get their costumes made or altered. It was up an "
Old Town
" street where you literally had to know exactly where to look, to find and gain access to it. When I got to the floor where the
costumers
where busily attending to legit customers, and working away on costumes, I was addressed decisively in Basel
Swiss German,
and I, knowing little to none apologised as best I could, and swiftly exited (after getting my few pics of course!) To be fair, foreigners or anyone who is not a member of a
Basel
clique
are not expected to, and it's actually a '
faux pas',
to dress in costume. There are however a ton of costumes for sale in
MANOR
,
COOP
and the like, so I assume that in order to partake in the spirit of Fasnacht, you are allowed to dress up on the
children's day
(Tuesday morning/afternoon) to assist with their procession. Otherwise it's a "no, no!"
My lack of ability to have a good reason for participation, when I had recently revelled in the lavish deviance of
Mardi Gras
, seemed a bit unfair, but I ultimately realised it was a cultural right of way and to take part as a mere observer was still better than nothing. What I discovered, having my first Fasnacht
last year,
is that this marvellous gathering of people is that, it's not
just
a festival, carnival, music event, (Fabulous bands!!!), etc., it is also a place to openly make a stance or bring about discussions involving subjects concerning the community and the world.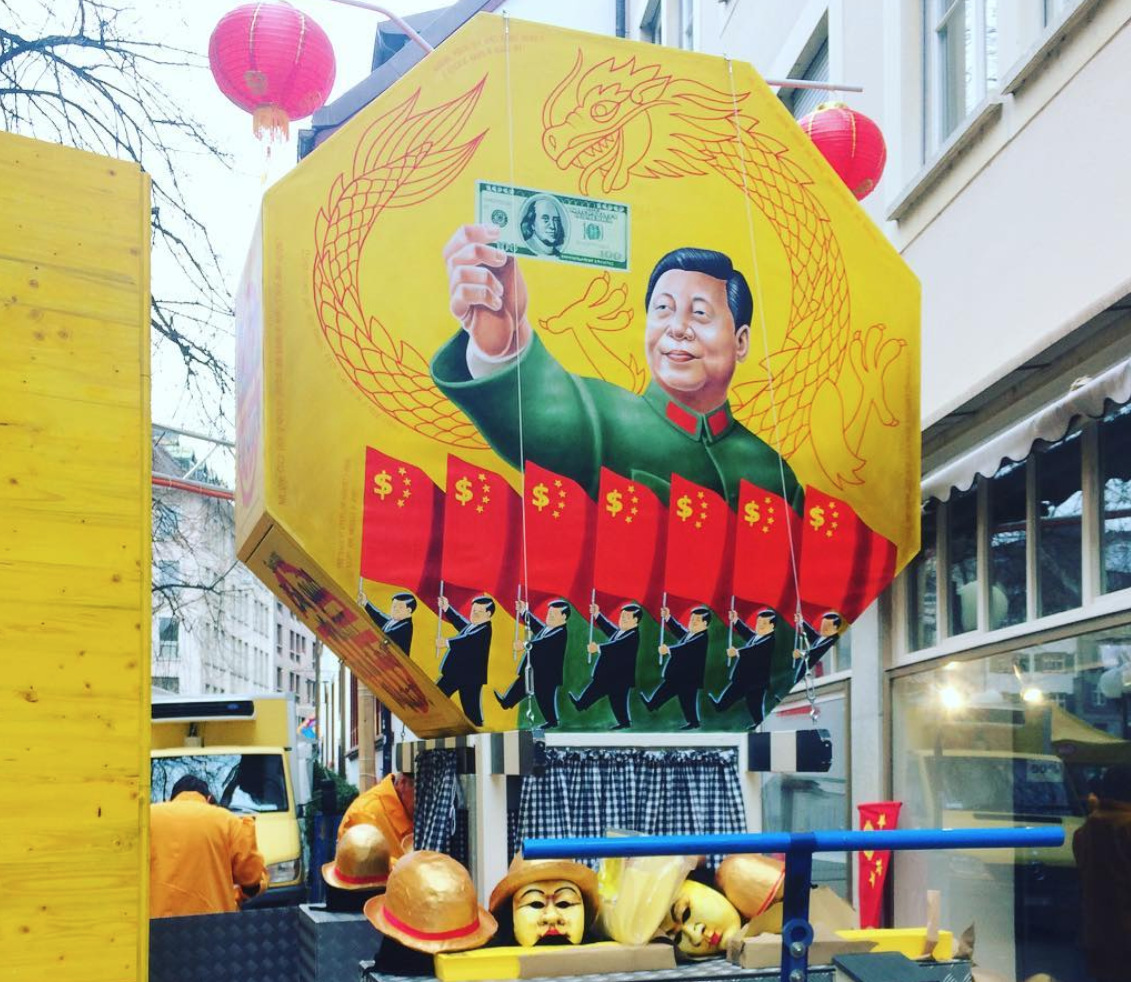 The tradition of Fasnacht quite heavily involves politics and "politically Incorrect" subjects. It may have started with making fun of the drunken French and hostile Germans (who were once a threat to Swiss borders) but now, it really does cover world issues. I really enjoyed observing the lantern floats that are created for this event (by the different clique's) that made a mockery of some of the current politicians, issues, etc., but also made me think seriously about how humankind devolved into the state it's in. Celebrities and all were the pun of jokes and regardless of whether something was offensive or not, it was on display for you to consider and discuss. What better way to open up conversation, and hopefully bring communities together with thought for resolution?
Even more so, as all ages participate in this event, what a great way to get both the young and old fact-checking history and thinking about their current political environment and overviews of the world . Let's note that the serious amount of exercise and discipline involved is also exemplary! I don't know about you but practicing all year on a piccolo or drums and then three full days of it would wreck me!
So most importantly for you "Newbies" to know is that:
YES, go ahead and have your MorgenStreicht Party. As a matter of fact nothing is going to stop you from partying all three days if you can handle it. Just be aware of your zoning laws and talk to neighbours to see if they apply during Fascnacht.
NO, don't complain about being hit in the head by an orange or small bottle of vodka, it's all in good fun!
YES, dress up in costume, if you have small kids you can happily march beside them during a parade
But NO, don't wander about on your own in costume or do so at your own risk…of being seriously confetti-attacked and frowned down upon, in a very Swiss way!
YES, you better turn off your lights the morning of Morgenstreicht because you will be in major trouble otherwise (and I'm not entirely sure what that trouble is but I'm pretty sure people are more direct when they are covered up with masks and probably partially intoxicated)
NO, don't complain about the 3 days of noise or being confettied, it's all about a tradition and if you don't like it, go away while it's on.
YES, enjoy the Fasnacht Celebration! Embrace the music, noise, political incorrectness and involve yourself in the debate, community and joyous revelling of it all. In my humble opinion there are worst things in life than a celebration that lets people have fun, especially when it involves practiced community team work, involving music, craftmanship and hard work.
Here is some further information taken off of Wiki